Michelle Cohen
Primary teachers: Catherine Gallant
Additional teachers: Patricia Adams | Loretta Thomas
Began studying Duncan dance: -1999 (Later Generations)
Areas of expertise: Performer
Location: New York (USA - Northeast)
Address: 3 Clinton Street, apt 1 New York, NY 10002
Phone: 610-334-3160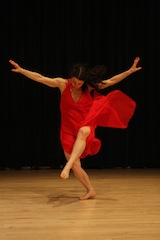 Michelle Cohen-Coté, RSMT/E, MA, founder of the Movement Forest, a center for movement health, brings to the fields of health and wellness her belief and passion in the power of movement, dance, and somatic awareness to deepen embodiment, cultivate conscious choice making, and enhance lives. Michelle is a registered somatic movement therapist and educator (RSMT/E) with the International Somatic Movement Education & Therapy Association (ISMETA). She has been studying and performing with Catherine Gallant and Loretta Thomas since 1999 under the auspice of Dances by Isadora, Catherine Gallant Dance, and Moving Visions Dance.
Michelle's love of dance has inspired her to develop her own movement body therapy, in which she cross-pollinates somatic movement, dance, and movement systems like Pilates and Yoga. She is a certified Dynamic Embodiment™ Practitioner and BodyMind Dancing™ teacher, a certified Body-Mind Centering® Embodied Anatomy and Yoga Teacher, a registered experienced 200-hour yoga teacher with Yoga Alliance, a Master teacher of Pilates, and Gyrotonic® teacher. Her additional trainings include Continuum Movement, Reiki, Meditation, CranioSacral Therapy, Body Talk, Ayurvedic Healing, and Diana Muenz Chen's Open Heart School.
Michelle has a Master's degree in Dance & Somatic Well-being from the University of Central Lancashire in England, a Bachelor of Arts degree in Communications and a dance minor from the American University in Washington, D.C., and a Certificate of Dance from the University of the Arts in Philadelphia, Pennsylvania. She is currently working on her Master of Science in Dance/Movement Therapy at Sarah Lawrence College. Outside the Movement Forest, Michelle conducts training seminars and master classes as well as actively performs with Dances by Isadora and Catherine Gallant Dance.

Affiliations
Dances by Isadora — performer (since 1999)
Links
Videos
| Collection | Title | Date |
| --- | --- | --- |
| Catherine Gallant and Dances by Isadora YouTube channel | Dances by Isadora at Jacobs Pillow 7-13-17 INSIDE/OUT Series | 2017-07-13 |
| Catherine Gallant and Dances by Isadora YouTube channel | Dances by Isadora: Schubert Andante | 2014 |
| Catherine Gallant and Dances by Isadora YouTube channel | Dances by Isadora: Roses from the South | 2012 |
| Catherine Gallant and Dances by Isadora YouTube channel | Dances by Isadora: Diamond | 2009 |
| Catherine Gallant and Dances by Isadora YouTube channel | Dances by Isadora: Scherzo | 2004 |
Related items in the Archives
The Isadora Duncan Archive Collection > Programs > Isadora Duncan in the 21st Century — Jan 20, 2017