Kathleen Quinlan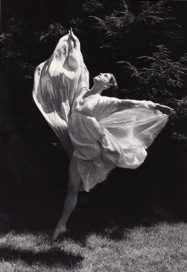 Kathleen Quinlan is originally from New York and has been living in Stockholm, Sweden, since 1987. She trained as a child dancer in ballet with Istvan Rabovisky and modern dance as a scholarship student at Dance Theatre workshop in New York City. Later she attended Boston Conservatory of Music and S.U.N.Y. Purchase as a dance major and Boston School of Fine Arts .
Kathleen danced as a soloist in Anna Sokolow´s New Players Project as well as performing as a dancer in the tradition of Isadora Duncan in the companies of Maria Theresa Duncan, Julia Levien and Hortense Kooluris. Together with pianist Richard Justin Fields, Kathleen toured in a solo program called "Hommage til Isadora".
Ms. Quinlan worked very closely with Anna Duncan, one of Isadora´s original pupils from the Grunewald School, on the writing of her memoirs. At Anna´s death, in 1980, Kathleen inherited the artistic responsibility and ownership of the memorbilia of Anna Duncan. This Collection is now housed at the Swedish Dance Museum in Stockholm. Together with the curator of the museum, she created a two catalogs and touring exhibitions "In the Footsteps of Isadora: Anna Duncan."
In Sweden, Kathleen has performed as a solo dancer in the work of Isadora Duncan together with the pianist Roland Pöntinen. In 1993, she started a children´s dance company "Lilla Baletten" who are trained and perform in the Art of Isadora as well as in Contemporary Modern Dance. Kathleen has worked as a choreographer for Ika Nord since 1991.
Kathleen Quinlan has received awards and scholarships in Dance from the Carina Ari Foundation, Rolf de Marie Foundation , the Swedish Arts Committee , from Stockholm City and the Lillian Runestam Foundation. Her work has been filmed by ARTE, the Swedish Televison as well as private filmmakers .
Ms. Quinlan travels as a guest teacher choreographing new works as well as setting the original choreography of Isadora. She has given lectures for the Nordic Research on Dance in Denmark, CORD Conference in the USA, Dance Archives in Germany and the CID World Congress on dance in Greece , to name a few. Kathleen has taught theatre dance at SEAD, Salzburg Experimental Academy of Dance in Austria.
In Stockholm, Kathleen is artistic director of Lilla Baletten and has just finished her 2nd exhibition at the Dance Museum. She is the Contemporary dance teacher at Sweden´s Royal Opera Ballet School.

Publications
Duncan, Anna. Anna Duncan: In the Footsteps of Isadora. Stockholm: Dansmuseet, 2010. ISBN 978-91-979227-0-8
Duncan, Anna. Anna Duncan: In the footsteps of Isadora. Stockholm: Dansmuseet, 1995. ISBN 91-630-3782-3
Kathleen Quinlan – Brief Moments
Affiliations
Isadora Duncan Commemorative (Centenary) Dance Company — Company Member
Links
Related items in the Archives
The Collection of Barbara Kane > Programs > Riverside Dance Festival — Julia Levien — Isadora Duncan Commemorative Dance Company — 1980