Maria Rosario Villasana
Primary teachers: Maria-Theresa Duncan | Mignon Garland
Began studying Duncan dance: 1974 (Second Generation)
Areas of expertise: Performer, Teacher, Repertory Coach, Choreographer, Historian, Scholar
Location: San Francisco (USA - West)
Address: 741 Lakeview Ave
Phone: 415-587-0802
Email: RosarioVillasana@hotmail.com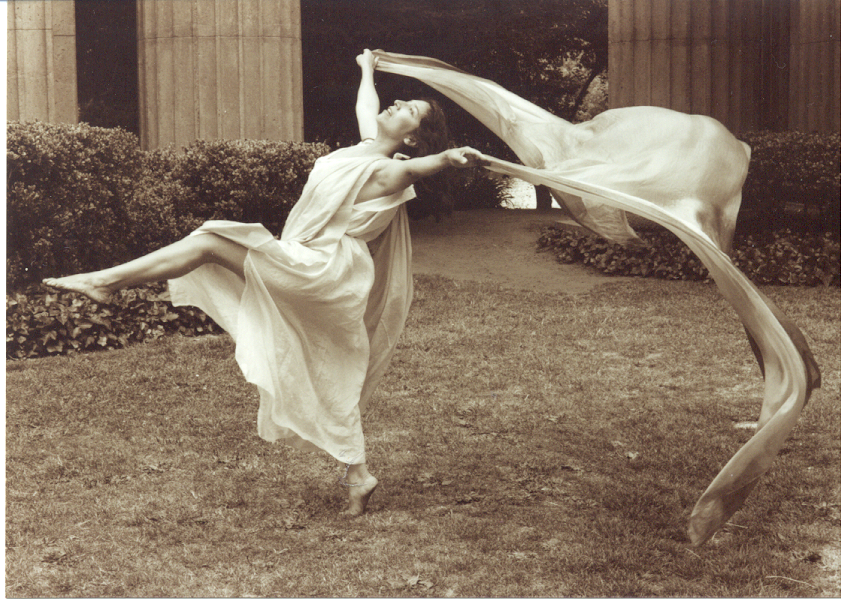 Maria del Rosario Villasana has studied with the Major exponents of Isadora Duncan's legacy since 1974. She has studied with members of Isadora 's original school in Moscow and in New York she studied with Maria Theresa, one of the six original pupils trained directly by Isadora, in both group and private sessions. This led to an invitation to dance with the Maria- Theresa -Isadora Duncan Heritage Group during the New York City Winter Season in 1978-79.
Rosario has devoted much of her professional career to teaching in many different settings and it is her desire as an artist to pass on the knowledge gained and to continue the tradition of Isadora Duncan's Dance Art.

Rosario has participated as a co-founder and leading member in a number of companies performing Isadora's repertoire including; Isadora Duncan Heritage Society under the direction of Mignon Garland, a founding member of the Dionysian Duncan Dancers, and Director of the Isadora Duncan Dance Center. She has coached numerous dancers and taught master classes in California, New York , Greece and Moscow. In San Francisco she teaches at the Isadora DuncanDance Center and at private and public schools.

Affiliations
Heritage Dance Company — Dancer (1978—1979)
Dionysian Duncan Dancers — Co-Founder, Artistic Director, Dancer (1977—1984)
Isadora Duncan Dancers (San Francisco) — Founder/Director
Isadora Duncan Ensemble (San Francisco) — Founder/Director
San Francisco Duncan Dancers — Dancer (1974—1977)
Videos
| Collection | Title | Date |
| --- | --- | --- |
| Dionysian Duncan Dancers | DDD at Golden Gate Bandshell | 1983 |
| Dionysian Duncan Dancers | Dionysian Duncan Dancers, Margaret Jenkins Performance Space | 1982-01 |
Related items in the Archives
The Collection of Christina Fessenden > Photos > DDD at S.F. Palace of the Legion of Honor — Dionysian Duncan Dancers
The Collection of Christina Fessenden > Programs > Centennial Dance Recital — San Francisco Duncan Dancers — May 27, 1977
The Collection of Christina Fessenden > Programs > Studio Opening Benefit — Dionysian Duncan Dancers — Mar 18, 1978
The Collection of Christina Fessenden > Programs > DDDs with Lori Belilove — Dionysian Duncan Dancers — Mar 24, 1978
The Collection of Christina Fessenden > Programs > DDD at Bolinas — Dionysian Duncan Dancers — Jun 24, 1978
The Collection of Christina Fessenden > Programs > Santa Cruz 1979 Performance — Dionysian Duncan Dancers — Dec 09, 1979
The Collection of Christina Fessenden > Programs > CA Historical Society Performances — Dionysian Duncan Dancers — Jun 20, 1980
The Collection of Christina Fessenden > Programs > Lone Mountain Theatre — Dionysian Duncan Dancers — Jun 05, 1981
The Collection of Christina Fessenden > Programs > Margaret Jenkins Performance Space — Dionysian Duncan Dancers — Jan 1982
The Collection of Christina Fessenden > Programs > DDD at Internationalist Arts Gallery — Dionysian Duncan Dancers — May 09, 1982
The Collection of Christina Fessenden > Programs > DDD in Geyserville — Dionysian Duncan Dancers — Sep 04, 1982
The Collection of Christina Fessenden > Programs > 4th Annual Festival of the Performing Arts — Dionysian Duncan Dancers — Sep 30, 1982
The Collection of Christina Fessenden > Programs > DDD at Army Street Studio — Dionysian Duncan Dancers — Jun 05, 1983
The Collection of Christina Fessenden > Programs > Peace — Dionysian Duncan Dancers — Jun 17, 1983
The Collection of Christina Fessenden > Programs > DDD at New Performance Gallery — Dionysian Duncan Dancers — Aug 10, 1984
The Collection of Christina Fessenden > Programs > In Honor of Chopin's 175th Birthday — Dionysian Duncan Dancers — Feb 22, 1985
The Collection of Christina Fessenden > Programs > Internationalist Art Festival — Dionysian Duncan Dancers — May 09, 1989
The Collection of Christina Fessenden > Programs > Isadora Duncan Dance Center Inauguration Performance — Jun 10, 1989
The Collection of Mignon Garland > Programs > S.F. Duncan Dancers, Bi-Centennial Event — 1976
The Collection of Mignon Garland > Programs > S.F. Duncan Dancers Centennial — 1977
The Collection of Annah G McCluskey > Programs > 6th Annual Tribute to Isadora Duncan — May 21, 1989
The Collection of Christina Fessenden > Articles > Isadora's 100th Birthday Celebration — May 25, 1977
The Collection of Christina Fessenden > Other > Promotion for Jan. 1982 Margaret Jenkins Performance — Dionysian Duncan Dancers — Jan 1982
The Collection of Christina Fessenden > Other > ID International Institute of Classical Dance
The Collection of Christina Fessenden > Other > Descriptions of DDD Class Offerings — Dionysian Duncan Dancers